Emilia went on her first road trip! Mama bought some cigarettes. After 3 days of not smoking and a 2 1/2 hour trip that took us 4....my nerves were shot, but Emilia did great, considering. Yes, we got misplaced and yes we had to make a few potty stops, but we eventually made it. I did find out that she may get carsick. The vomit on the way back home clued me in. I don't know though. I guess we are going to have to test this theory again to make sure....not looking forward to that.
Anyway, we went to Tampa to see Aunt Amber and Uncle Justin since they are headed back to Hawaii soon. This was their last weekend in Florida, so we had to take advantage. They were super great hosts and Emilia and I had a great time! Emilia was smitten with Uncle Justin...I think Uncle Chris has a run for his money.....
Here are some pictures from the Florida Aquarium. I highly suggest that you make the trip down, it was pretty fun and it was exciting to watch Emilia see all the creatures. There is also a great little playground and waterpark outside of the Aquarium. Emilia had a great time!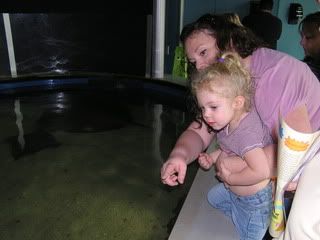 looking at and petting sharks and rays
Emilia showing Justin the cool sea creatures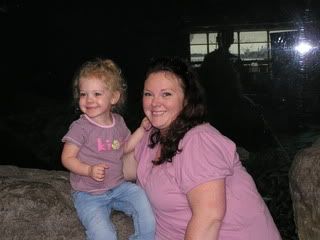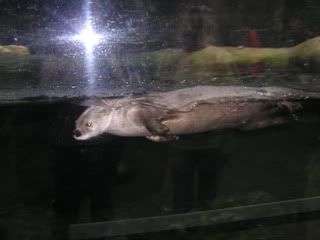 River Otters
Emilia found Nemo
Bonnethead shark.....not to be confused with a hammerhead shark.
The guys looked like they were having fun!
This eel was like 6 ft. long and so nasty!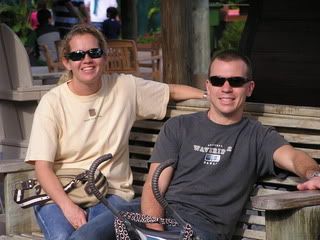 Aunt Amber and Unlce Justin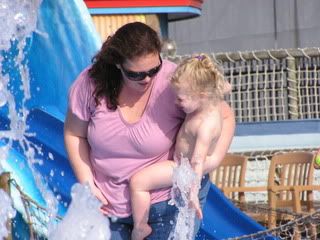 Playing at the waterpark....it was 81 and beautifully sunny!
You know you are a redneck when you let your kid go naked at the waterpark. ha,ha
and her first frosty afterward!
It was a good day!